1. Arrange and run aconversation on the following text:
The Only Way to Travel Is on Foot
When anthropologists turn their attention to the twenti­eth century, they will surely choose the label "Legless Man". Histories of the time will go something like this: "In the twentieth century people forgot how to use their legs. Men and women moved about in cars, buses and trains from a very early age. The surprising thing is that they didn't use their legs even when they went on holiday. They built cable railways, ski-lifts and roads to the top of every huge moun­tain."
The future history books might also record that we did not use our eyes. In our hurry to get from one place to an­other, we failed to see anything on the way. Air travel 0ves you a bird's-eye view of the world. Car drivers in particular, never want to stop. The typical twentieth-century traveller is the man who always says 'I've been there' — meaning, "I drove through it at 100 miles an hour on the way to some­where else."
When you travel at high speeds the present means noth­ing: you live mainly in the future, because you spend most of your time looking forward to arriving at some other place. But actual arrival when it is achieved, is meaningless. You want to move on again. The traveller on foot, on the other hand, lives constantly in the present. He experiences to present moment with his eyes, his ears and the whole of his body. At the end of his journey he feels a delicious physical weariness. He knows that sound satisfying sleep will be his: the just reward of all true travellers.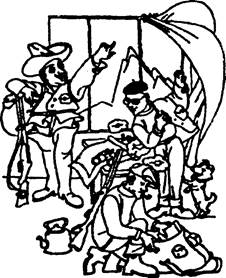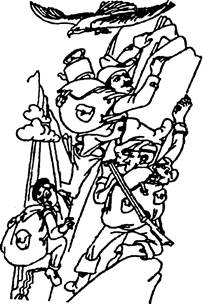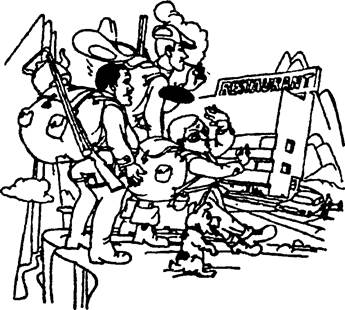 Arguments:
| | |
| --- | --- |
| For: | Against: |
| 1. Even on holiday: cable railways, ski-lifts, roads to tops of mountains. | 1. Foolish to climb a mountain when there's a railway or road up it |
| 2. When travelling at high speeds present means nothing: life in future. | 2. Travelling at high speeds is a pleasure in itself. |
| 3. Traveller on foot: lives constantly in present | 3. Travelling on foot: exhausting: you get nowhere fast |
| 4. Typical twentieth-century traveller: "I've been there." Italy, Delhi, Irkutsk; through at 100 miles an hour. | 4. It's now possible to see many countries, meet people of all nationalities. |
2. Think of some other arguments and counter-arguments to carry on the discussion. (See "Classroom English", Section IX.)
XIV. A. Do yon know how to act sensibly when out in the wilds? If not, the text below might help you:
If you are setting off on a walking tour, take a compass, a map and first-aid equipment with you. Even the most ex­perienced can lose their way in the vast uninhabited areas. If you get lost don't lose your head. Instead be sensible, try to give some indication of where you are and keep yourself warm. And remember: never go off alone, and inform some­one at your point of departure where you intend to go, and what route you intend to take.
B. Describe the pictures. Use the suggested phrases.
С See if the travellers have acted sessibly. Support your idea.
a) give me a walking tour every time; you can't beat (hitch-) hiking; need you take so much luggage? b) to get to wild, un­inhabited places; to be hardly able to go on; to be nearly drowned in a swamp; unimaginable hardships; to overcome the obstacles; c) there was a turn in the weather, it was pour­ing; flashes of lightning, rolls of thunder, I wish I were in a railway carriage now!; d) to climb the steepest rocks; to face the danger of...; to get to places where no man's foot has ever stepped; e) to reach the top in safety, to be hardly able to be­lieve one's eyes; you could knock me down with a feather.
STUDIES OF WRITTEN ENGLISH
VIII
Different patterns of writing (see "Studies" in Unit One) seldom occur alone, more often they blend into one another, especially in letter writing.
Letteris a specific kind of written composition involving a concrete writer, message and a concrete reader. In many ways it is a free composition. A letter is in a sense, a theme, gov­erned by the same rules of writing that govern every other kind of composition. It must be clear, well organized, coher­ent. And it should be interesting.
But a letter is also governed by certain other laws, or con­ventions of usage, which the letter writer cannot ignore.
These are the parts of a letter: the heading, the inside ad­dress, the greeting, the body of the letter, the complimentary close, the signature.
For each of these parts usage has prescribed certain set forms depending on different types of letters — personal or business letters, informal or formal social notes.
The heading.The parts of a heading, written in the fol­lowing order, are the street, address, the name of a city or town (the name of the state in the U.S.A.), the date, е.g.
Vine Cottage Oxford Road Abingdon-on-Thames 13 May 19...
N о t e: In Great Britain very often the house is not numbered but has a "proper" name, like "Vine Cottage",
The inside address. In a business letter the inside ad­dress is the address of the person written to. In personal let­ter the inside address is usually omitted.
In a business letter it is always correct to use a personal title with the name of the person addressed. A business title should not precede the name. Correct personal titles are: Mr., Mrs., Miss, Dr., Professor, Messrs., е.g.
Dr. Т. С Howard
Superintendent of Schools
The Greeting.The following forms are correct for busi­ness and professional letters:
Gentlemen: Ladies:
Dear Sir: Dear Madam:
My dear Sir. My dear Madam:
Dear Mr. Warren: Dear Miss Howard:
In personal letters either a colon or a comma may be used after the greeting. A comma is considered less formal. In personal letters the range of greetings is unlimited and in­formal, like "My own Lovey-Dovey" of Judy's "Dear Daddy Long-Legs".
The Body of the Letter. A good letter should be clear, di­rect, coherent, dignified and courteous.
The Complimentary Close. Correct forms for business let­ters are:
Yours truly, Yours very truly, Very truly yours,
Respectfully yours, Faithfully yours. Sincerely yours,
Yours sincerely, Cordially yours.
The Signature. Some of the conventions should be ob­served: a) neither professional titles, nor academic degress should be used with a signature; b) an unmarried woman should sign herself as Miss Laura Blank, but she may place Miss in parentheses before her name if she feels that it is necessary for proper identification; c) a married woman or a widow signs her own name, not her married name. For ex­ample, Diana Holiday Brown is her own name; Mrs. George Brown is her married name,
Here is an example of a business letter:
Dear Miss Carnaby,
Allow me to enclose a contribution to your very deserv­ing Fund before it is finally wound up.
Yours very truly,
Hercule Poirot.
Assignments: