Underline the correct variant of the verb form. Then watch Part 1 again and check your answers.
ROBERTHey! It's one o'clock! Lunch time.
GREGGreat. I'm hungry. Come on, everybody.
JULIAAre you OK, Greg? Have/ has you got what you want?
GREGYes. Thanks, Julia, it's great.
JULIAWell, as you see, we have/ has lunch at one o'clock, for about an hour. Then, at two o'clock, we go/goes back to work.
GREGWhat time do/ does we finish?
JULIAWe finish/ finishes work at half past five.
GREGHalf past five. Right. Good. Thanks.
MAIVEWhat do/ does you do in the evenings, Greg?
GREGWell, I watch/ watches TV, I go/ goes to clubs - I love/ loves clubbing. I go to the cinema. Oh, and I go running to keep fit.
MAIVE Do you? Robert go/ goes running. He love/ loves it. He goes running every morning, don't/ doesn't you, Robert?
GREGWow! That's cool.
JULIA Well, I don't/ doesn't go running.
Look at photos and choose the best answer.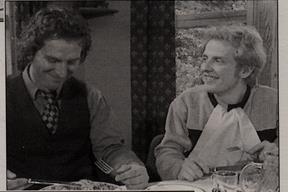 A B
C
1 Greg is
Abored.
B happy.
2 Greg says 'That's cool'. So
A he's impressed by Robert.
B he thinks Robert is cold.
3 Jack
Ais surprised Greg likes the Spice Girls.
Blikes the Spice Girls too.
Work in pairs. Ask your partner what he/she does every day and what he/ she likes doing. Then give a report in the class.
PART 2
Decide where these sentences go in the dialogue below. Write them down in the spaces provided.
a My brothers are 15 and 16.
b This is my husband. His name's Mark.
c Yes, it's great!
d Yes, she really loves it!
e Yes, I've got two brothers and a sister.
f We like playing football!
JACK Well, that's it. It's half past five. I think it's time to go.
MAIVE Great. Come on, Robert. It's half past five.
GREGWell, see you tomorrow, Julia.
JULIA Yes.
GREGIs that your family?
JULIA Yes. (1)______________________________ This is my son. His name's Peter, and this is my daughter, Becky. What about you, Greg? Do you have any brothers or sisters?
GREG (2) ______________________________ . My sister's name's Anne. She's 14. (3)______________________________ They're called Brian and Robin. Brian's 15, Robin's 16.
JULIA Lovely. Do you like having a big family?
GREG (4) ___________________________ We do a lot of things together. We have a good time! (5)_______________________________________
JULIAAll of you? Does your sister like playing football?
GREG Anne? (6)_______________________________________ She's a fantastic footballer.
JULIA That's great. But look, it's time to go home. Off you go. See you tomorrow.
GREG Right. Thanks, Julia, Bye.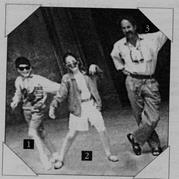 12 Watch part 2 and match the people in the photo and the names. Complete the table below.
Match the names and the ages
Anne 15
Brian 16
Robin 14
Work in pairs. Say who the people are in activities 14 and 15.
Example:
Mark is Julia's husband.
Anne is Greg's sister.
PART 3
Look at the photo and decide how many families are represented on it.
16 Watch Part 3 and tick the names of the people you see speaking.
| | |
| --- | --- |
| The Sowerbutts Christine ____ Jim ____ Lara ____ Eleanor ____ Anna ____ Jack ____ | The Lambs: Jane ____ Clive ____ Spencer ____ Matthew ____ Jessica ____ Jordan ____ |
Work in pair. Decide if the sentence is True (T) of False (F). Correct the false sentences.
1 Christine is Eleanor's mother. __________
2 Jim is Spencer's father. _______________
3 Lara is Anna's sister. _________________
4 Jack is Clive's son. ___________________
5 Jessica is Christine's daughter. _________
6 Jordan is Jack's brother. _______________
Say what the relationship is between these people.
Example:
1 Jane and Clive Jane is Clive's wife.
2 Christine and Clive
3 Jane and Jordan
4 Clive and Jessica
5 Christine and Jordan
6 Anne and Christine
Answer the questions.
What time does:
1 .... Christine get up?
2 ... Jim start work?
3 .. .Eleanor start school?
4 ... Jane get up?
5 .. Clive go to work?
6 ... Matthew go to bed?
20 Work in pairs. Who tells us when they:
1 … go to bed?
2 … come home?
3 … go shopping?
4 … give the children a bath?
5 … have break time?
6 … take the children to school?
If you remember the times, write them down.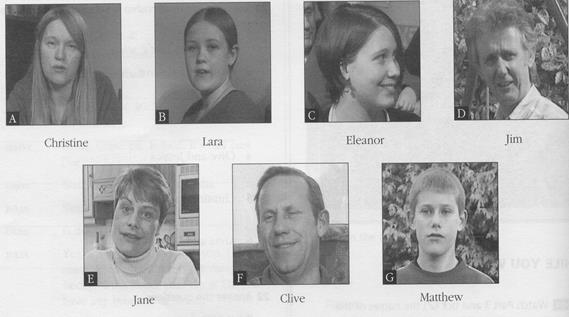 Follow up

21 Work in groups of three or four. Prepare a classroom survey. Find out:

- when people get up

- when they have breakfast

- when they go to work/school

- when they have lunch

- when they come home from work/school

- when they have dinner

- what they do in the evening

- what they like doing

- when they go to bed

Write questions you're going to ask.

Think of two more things to ask people about.

Work with your group. What are the most common times and activities among the people who answered your survey?

Prepare a chart showing the results of your survey.

WORD LIST




Accountant

Actor

Address

Age

Ambulance man

Ankara

Application form

Architect

As for me

At half past three

Athens

Bank

Barman

Black

Blue

Boatman

Boy

Boyfriend

Brave

Britain

British

Business centre

Business meeting

Bye

Cairo

Calm

Cartoon

Character

Children

Chile

Chinese food

Cigar

Cinema

Clever

Country

Credit card

Current address

Date of birth

Daughter

Dentist

Director

Dishonest

Doctor

Dublin

Economist

Egypt

Egyptian

Eight

Eighteen

Eighty

Energetic

England

Family

Family tree

Favourite

Female

Fifteen

Fifty

Fifty-two

Fine

Finland

Fireman

First name

Five

Forename

Forty

Forty-four

Four

Fourteen

Freshman

Funny

Girl

Glasses

Good evening

Good morning

Good-looking

Grandmother

Greece

Green

Handshake

Happy

Hello

Helsinki

Hi

Honest

Hotel

Housewife

Housework

Hundred and twelve

Husband

Imaginative

Independent

Interviewer

Ireland

Ironing

Japan

Jealous

Job

Job interview

Kid

Kind

Kiss (n)

Korea

Landing card

Lazy

Leave the house

Library card

Lisbon

London

Loyal

Madrid

Maiden name

Make breakfast

Male

Man

Manager

Manila

Marital status

Married

Mean

Meet friends

Musician

Mysterious

Nationality

Nine

Nineteen

Ninety

Ninety-two

Nurse

Occupation

One hundred

One thousand

Part-time job

Pet

Petrol accountant

Phone number

Photographer

Place of birth

Poland

Police station

Policeman

Portugal

Post code

Postman

Private detective

Profession

Purple

Receptionist

Relationships

Restaurant

Road-sweeper

Sandwich

Santiago

Secondly

See friends

Selfish

Sensible

Seoul

Serious

Seven

Seven hundred and thirty-one

Seventeen

Seventy

Shake hands

Shop assistant

Shy

Sing in the bathroom

Single

Sir

Six

Sixteen

Sixty

Sociable

Son

South Korea

Spain

Steak

Stranger

Stubborn

Surname

Suspicious

Talkative

Taxi driver

Teacher

Telephone

Telephone card

Temporary employment

Textile Company

The Philippines

The United States of America

Theatre

Theatre ticket

Thirteen

Thirty

Three

To lie in bed

To be determined

To betray

To buy nice clothes

To cook dinner

To deliver letters

To do the housework

To do the washing up

To do work

To drink

To earn money

To get dressed

To get home

To get job experience

To get the bus/train to work/ school

To get up

To go out

To go shopping

To go to a club

To go to a concert

To go to a party

To go to bed

To go to the cinema

To go to work/school

To greet

To hate

To have a computer

To have a cup of coffee

To have a glass of wine

To have a shower

To have breakfast

To have dinner out

To have lunch

To hug

To kiss on the cheek

To like

To pay for a car

To play football

To play tennis

To read a newspaper

To smoke

To start work

To stay at a hotel

To talk to people

To telephone a friend

To wake up

Toilet

Tokyo

Tour guide

Train tickets

Turkey

Twenty-seven

Undertaker

United Kingdom

Video club card

Village

Warm-hearted

Warsaw

Washington

Watch TV a lot

White

Wine

Woman

Work

Working day

Writer

Yellow





Bibliography

1 Capel A., Ireland S. KET practice Tests. Oxford University Press. - 2000

2 Collie J., Slater S. True to life. Elementary. Class Book. - Cambridge University Press. - 1995

3 Cunningham G. Matters. Elementary. Student's Book. – Longman. 1994

4 Cunningham G. Matters. Elementary.Workbook. - Longman, 1994

5 Evans V., Dooley J. Enterprise 2. Elementary. Coursebook. - Express Publishing. - 1999.

6 Evans V., Dooley J. Enterprise 2. Elementary. Workbook. - Express Publishing. - 1999.

7 Greenall S., Delestree A. Reward. Elementary. Grammar and Vocabulary Book. - Heinemann English Language Teaching. Oxford. - 1998

8 Greenall S., Pye D. Reward. Elementary. Practice Book. - Heinemann English Language Teaching, Oxford. - 1997

9 Greenall S., Reward. Elementary. Student's Book. - Heinemann English Language Teaching. Oxford. - 1998

10 Greenall S., Reward. Elementary. Teacher's Book. - Heinemann English Language Teaching. Oxford. - 1997

11 Greenall S., Reward. Elementary. Video Activity Book. - Heinemann English Language Teaching, Oxford. - 1999

12 Hartley B., Viney P. Streamline English. Departures. - Oxford University Press. - 1997

13 Hopkins A., Potter J. Look Ahead 1. Student's Book. - Longman. - 1994

14 Hopkins A., Potter J. Look Ahead 1. Video Workbook. - Longman. - 2000

15 Hopkins A., Potter J. Look Ahead 1. Workbook. - Longman. - 1994

16 McCarthy M., O'Dell F. English Vocabulary in Use. Elementary. - Cambridge University Press. - 1999.

17 Murphy R. Essential Grammar in Use. Cambridge University Press. - 1996

18 Richards J. C. New Interchange 1. Student's Book. - Cambridge University Press. - 1997

19 Soars L., Soars J. New Headway. Elementary. Students' Book - Oxford University Press, 2003

20 Viney P., Viney K. In English. Elementary. Student's Book. - Oxford University Press. - 2004