Front Loader – Construction Equipment
by Er. Ankush
Also known as a front end loader, bucket loader, scoop loader, or shovel, the front loader is a type of tractor that is normally wheeled and uses a wide square tilting bucket on the end of movable arms to lift and move material around. The loader assembly may be a removable attachment or permanently mounted on the vehicle. Often times, the bucket can be replaced with other devices or tools, such as forks or a hydraulically operated bucket.
Larger style front loaders, such as the Caterpillar 950G or the Volvo L120E, normally have only a front bucket and are known as front loaders, where the small front loaders are often times equipped with a small backhoe as well and called backhoe loaders or loader backhoes. Loaders are primarily used for loading materials into trucks, laying pipe, clearing rubble, and also digging. Loaders aren't the most efficient machines for digging, as they can't dig very deep below the level of their wheels, like the backhoe can.
The deep bucket on the front loader can normally store around 3 – 6 cubic meters of dirt, as the bucket capacity of the loader is much bigger than the bucket capacity of a backhoe loader. Loaders aren't classified as excavating machinery, as their primary purpose is other than moving dirt. In construction areas, mainly when fixing roads in the middle of the city, front loaders are used to transport building materials such as pipe, bricks, metal bars, and digging tools. Front loaders are also very useful for snow removal as well, as you can use their bucket or as a snow plough. They can clear snow from the streets and highways, even parking lots. They will sometimes load the snow into dump trucks which will then haul it away.
Unlike the bulldozer, most loaders are wheeled and not tracked. The wheels will provide better mobility and speed and won't damage paved roads near as much as tracks, although this will come at the cost of reduced traction. Unlike backhoes or tractors fitted with a steel bucket, large loaders don't use automotive steering mechanisms, as they instead steer by a hydraulically actuated pivot point set exactly between the front and rear axles. This is known as articulated steering and will allow the front axle to be solid, therefore allowing it to carry a heavier weight.
Articulated steering will also give a reduced turn in radius for a given wheelbase. With the front wheels and attachment rotating on the same axis, the operator is able to steer his load in an arc after positioning the machine, which can come in quite handy. The problem is that when the machine is twisted to one side and a heavy load is lifted high in the air, it has a bigger risk of turning over.
http://www.engineeringcivil.com/theory/construction-equipments/
Various Types Of Cranes
by Er. Vikrant
A crane is a tower or derrick that is equipped with cables and pulleys that are used to lift and lower material. They are commonly used in the construction industry and in the manufacturing of heavy equipment. Cranes for construction are normally temporary structures, either fixed to the ground or mounted on a purpose built vehicle.
They can either be controlled from an operator in a cab that travels along with the crane, by a push button pendant control station, or by radio type controls. The crane operator is ultimately responsible for the safety of the crews and the crane.
Mobile Cranes
The most basic type of crane consists of a steel truss or telescopic boom mounted on a mobile platform, which could be a rail, wheeled, or even on a cat truck. The boom is hinged at the bottom and can be either raised or lowered by cables or hydraulic cylinders.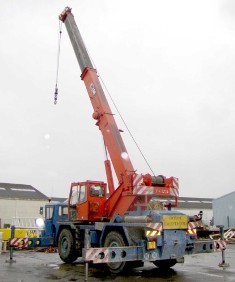 Telescopic Crane
This type of crane offers a boom that consists of a number of tubes fitted one inside of the other. A hydraulic mechanism extends or retracts the tubes to increase or decrease the length of the boom.
Tower Crane
The tower crane is a modern form of a balance crane. When fixed to the ground, tower cranes will often give the best combination of height and lifting capacity and are also used when constructing tall buildings.
Truck Mounted Crane
Cranes mounted on a rubber tire truck will provide great mobility. Outriggers that extend vertically or horizontally are used to level and stabilize the crane during hoisting.
Rough Terrain Crane
A crane that is mounted on an undercarriage with four rubber tires, designed for operations off road. The outriggers extend vertically and horizontally to level and stabilize the crane when hoisting. These types of cranes are single engine machines where the same engine is used for powering the undercarriage as it is for powering the crane. In these types of cranes, the engine is normally mounted in the undercarriage rather than in the upper portion.
Loader Crane
A loader crane is a hydraulically powered articulated arm fitted to a trailer, used to load equipment onto a trailer. The numerous sections can be folded into a small space when the crane isn't in use.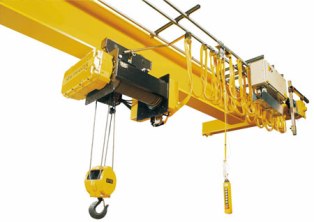 Overhead Crane
Also referred to as a suspended crane, this type is normally used in a factory, with some of them being able to lift very heavy loads. The hoist is set on a trolley which will move in one direction along one or two beams, which move at angles to that direction along elevated or ground level tracks, often mounted along the side of an assembly area.
In the excavation world, cranes are used to move equipment or machinery. Cranes can quickly and easily move machinery into trenches or down steep hills, or even pipe. There are many types of cranes available, serving everything from excavation to road work.
Cranes are also beneficial to building bridges or construction. For many years, cranes have proven to be an asset to the industry of construction and excavating. Crane operators make really good money, no matter what type of crane they are operating.
http://www.engineeringcivil.com/theory/construction-equipments/
Compact Excavator
by Er. Vikrant
The compact hydraulic excavator can be a tracked or wheeled vehicle with an approximate operating weight of 13,300 pounds. Normally, it includes a standard backfill blade and features an independent boom swing. The compact hydraulic excavator is also known as a mini excavator.

A compact hydraulic excavator is different from other types of heavy machinery in the sense that all movement and functions of the machine are accomplished through the transfer of hydraulic fluid. The work group and blade are activated by hydraulic fluid acting upon hydraulic cylinders. The rotation and travel functions are also activated by hydraulic fluid powering hydraulic motors.

Most types of compact hydraulic excavators have three assemblies – house, undercarriage, and the work group.

House
The house structure contains the compartment for the operator, engine compartment, hydraulic pump and also the distribution components. The house structure is attached to the top of the undercarriage via swing bearing. Along with the work group, them house is able to rotate upon the undercarriage without limit due to a hydraulic distribution valve that supplies oil to the undercarriage components.

Undercarriage
The undercarriage of compact excavators consists of rubber or steel tracks, drive sprockets, rollers, idlers, and associated components and structures. The undercarriage is also home to the house structure and the work group.

Work group

The work group consists of the boom, dipper or arm, and attachment. It is connected to the front of the house structure via a swinging frame that allows the work group to be hydraulically pivoted left or right in order to achieve offset digging for trenching parallel with the tracks.

Independent boom swing

The purpose of the boom swing is for offset digging around obstacles or along foundations, walls, and forms. Another use is for cycling in areas that are too narrow for cab rotation. Another major advantage of the compact excavator is the independent boom swing.

Backfill blade

The backfill blade on compact excavators is used for grading, levelling, backfilling, trenching, and general dozer work. The blade can also be used to increase the dumping height and digging depth depending on its position in relation to the workgroup.

The most common place you'll find compact excavators is in residential dwellings. When digging phone lines or other things, these pieces of equipment are very common for getting between houses. Due to their small size, they can fit almost anywhere. Over the years, the capabilities for compact excavators have expanded far beyond the tasks of excavation. With hydraulic powered attachments such as breakers, clamps, compactors and augers, the compact excavator is used with many other applications and serves as an effective attachment tool as well. Serving many purposes, the compact excavator is a great addition to any job that requires the use of machinery.

http://www.engineeringcivil.com/theory/construction-equipments/