Cast Stone Elements - Group 2
MeltonStone™ Cast Stone Quoins
Historically, quoins were used to tie the corner of a structure together while creating a contrasting feature to frame the structure visually. Melton Classics has a wide variety of classic quoin designs available in numerous sizes and natural stone colours to enhance the architectural presence of your project. Available with square or chamfered edges in a thickness of 3 5/8" or more, our quoins are ideal to frame the corners of any brick or stone structure. Our quoins are also available for installation in a staggered or linear layout to allow design flexibility. MeltonStone™ quoins can be manufactured with attachment slots on top and bottom or provided with threaded inserts for
ease of installation.
MeltonStone™ Cast Stone Stair Treads and Risers
MeltonStone™ cast stone stair treads and risers are as beautiful as they are functional, and are available in several stone colours. Our treads and risers are designed to work together to compliment our MeltonStone™ pavers and balustrade products in creating a coordinated architectural design for your porch or stairway. Treads are available with your choice of bull nosed, ogee or chamfered leading edges to accommodate any architectural design. Treads and risers are available in a wide array of sizes for straight or spiral stairways and may be ordered with or without returns.

MeltonStone™ Cast Stone Veneers
Also known as Ashlar Block, cast stone veneer has been used in building construction for decades to provide contrasting colour and texture to fine masonry architecture. Melton Classics offers the design professional a wide array of colours, textures and shapes for their cast stone ashlar block or cast stone veneer needs. From an arched wall feature with a balustrade above to the entire base of a large building, MeltonStone cast stone veneer adds beauty and elegance to your building design. MeltonStone veneer is available in several textures to enhance your design. Our standard sugar cube smooth textured MeltonStone veneer is offered in a variety of sizes and shapes with flat or chamfered edges. For the rustic look of stone we also offer split face or rock faced ashlar blocks or veneer. We also offer several Standard Colours and Profiles, or a custom colour of your choice to contrast or coordinate as desired with your stone or other masonry.

MeltonStone™ Cast Stone Wall Coping
In addition to its functional use as moisture protection for exterior masonry, parapet and landscape walls, MeltonStone Cast Stone wall coping, pier caps and finials are utilized by appearance conscious design professionals to add elegance, contrast, and a finished appearance to their masonry wall designs. Available in single and double sloped styles, or in your own custom design, MeltonStone Wall Coping is the ideal economical wall cap for your exterior wall designs. Our wall coping can be coordinated with a myriad of MeltonStone cast stone Pier Caps and Finials to add flair, and a unique appointment to your wall designs. Whether you want an urn finial, pineapple finial or a classic ball finial, Melton Classics can economically enhance the look of your masonry piers with one of our many beautiful cast stone finials to meet your design requirements.

MeltonStone™ Cast Stone Window Features
Melton Classics offers a wide array of cast stone window pediments, jack arches, keystones, casings, panels and sills to allow you to embellish the window openings for your project. The combination of contrasting MeltonStone Cast Stone window features with brick or stone veneer adds contrasting texture and colour to the facade of fine architecture.
Water Resources Management
Challenges
Water is essential for socio-economic development and for maintaining healthy ecosystems. Properly managed water resources are a critical component of growth, poverty reduction and equity. The livelihoods of the poorest are critically associated with access to water services.
With higher rates of urbanization, increasing demand for drinking water will put stress on existing water sources. Feeding a planet of 8 billion by 2030 will require producing more food with less water and through improved water efficiency in agriculture. Energy demand will more than double in poor and emerging economies in the next 25 years and hydropower will need to be a key contributor to clean energy production. Floods and droughts will continue to threaten farmer livelihoods and lowland economies. Besides the needs for these human activities we have to ensure that the environmental water flows required maintaining ecosystems are also maintained.
Water Resources Management aims at optimizing the available natural water flows, including surface water and groundwater, to satisfy these competing needs. Adding uncertainty, climate change will increase the complexity of managing water resources. In some parts of the world, there will be more available water but in other parts, including the developing world, there will be less.
The mounting challenges posed by the changing demand for and supply of the resource highlight the importance of water in any development and growth agenda. The ability of developing countries to make more water available for domestic, agricultural, industrial and environmental uses will depend on better management of water resources and more cross-sectoral planning and integration. With water security declining in many parts of the world, strengthening the resiliency of the poorest countries and populations to climate change impacts, becomes crucial, not only to ensure future water supply but also to combat food and energy price volatility.
http://water.worldbank.org/water/topics/water-resources-management
Water distribution
Pecos: Water Tower
A water distribution system is a network of pumps, pipelines, storage tanks, and other appurtenances. It must deliver adequate quantities of water at pressures sufficient for operating plumbing fixtures and fire fighting equipment, yet it must not deliver water at pressures high enough to increase the occurrence of leaks and pipeline breaks. Pressure-regulating valves may be installed to reduce pressure levels in low-lying service areas. More than half the cost of a municipal water supply system is for the distribution network.
Pipelines
The pipeline system of a municipal water distribution network consists of arterial water mains or primary feeders, which convey water from the treatment plant to areas of major water use in the community, and smaller-diameter pipelines called secondary feeders, which tie in to the mains. Usually not less than 150 mm (6 inches) in diameter, these pipelines are placed within the public right-of-way so that service connections can be made for all potential water users. The pipelines are usually arranged in a gridiron pattern that allows water to circulate in interconnected loops; this permits any broken sections of pipe to be isolated for repair without disrupting service to large areas of the community. "Dead-end" patterns may also be used, but they do not permit circulation, and the water they provide is more susceptible to taste and odour problems because of stagnation.
A water distribution pipeline must be able to resist internal and external forces, as well as corrosion. Pipes are placed under stress by internal water pressure, by the weight of the overlying soil, and by vehicles passing above. They may have to withstand water-hammer forces; these occur when valves are closed too rapidly, causing pressure waves to surge through the system. In addition, metal pipes may rust internally if the water supply is corrosive or externally because of corrosive soil conditions.
Materials
Distribution pipes are made of asbestos cement, cast iron, ductile iron, plastic, reinforced concrete, or steel. Although not as strong as iron, asbestos cement, because of its corrosion resistance and ease of installation, is a desirable material for secondary feeders up to 41 cm (16 inches) in diameter. Pipe sections are easily joined with a coupling sleeve and rubber-ring gasket. Cast iron has an excellent record of service, with many installations still functioning after 100 years. Ductile iron, a stronger and more elastic type of cast iron, is used in newer installations. Iron pipes are provided in diameters up to 122 cm (48 inches) and are usually coated to prevent corrosion. Underground sections are connected with bell-and-spigot joints, the spigot end of one pipe section being pushed into the bell end of an adjacent section. A rubber-ring gasket in the bell end is compressed when the two sections are joined, creating a watertight, flexible connection. Flanged and bolted joints are used for aboveground installations.
Plastic pipes are available in diameters up to 61 cm (24 inches). They are lightweight, easily installed, and corrosion-resistant, and their smoothness provides good hydraulic characteristics. Plastic pipes are connected either by a bell-and-spigot compression-type joint or by threaded screw couplings.
Precast reinforced concrete pipe sections up to 366 cm (12 feet) in diameter are used for arterial mains. Reinforced concrete pipes are strong and durable. They are joined using a bell-and-spigot-type connection that is sealed with cement mortar. Steel pipe is sometimes used for arterial mains in aboveground installations. It is very strong and lighter than concrete pipe, but it must be protected against corrosion with lining of the interior and with painting and wrapping of the exterior. Sections of steel pipe are joined by welding or with mechanical coupling devices.
http://www.britannica.com/EBchecked/topic/637296/water-supply-system
Road Maintenance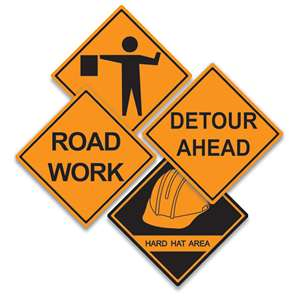 Proper road maintenance contributes to reliable transport at reduced cost, as there is a direct link between road condition and vehicle operating costs (VOC). An improperly maintained road can also represent an increased safety hazard to the user, leading to more accidents, with their associated human and property costs. In general, road maintenance activities can be broken into four categories:
· Routine works. These are works that are undertaken each year that are funded from the recurrent budget. Activities can be grouped into cyclic and reactive works types. Cyclic works are those undertaken where the maintenance standard indicates the frequency at which activities should be undertaken. Examples are verge cutting and culvert cleaning, both of which are dependent on environmental effects rather than on traffic levels. Reactive works are those where intervention levels, defined in the maintenance standard, are used to determine when maintenance is needed. An example is patching, which is carried out in response to the appearance of cracks or pot-holes.
· Periodic works. These include activities undertaken at intervals of several years to preserve the structural integrity of the road, or to enable the road to carry increased axle loadings. The category normally excludes those works that change the geometry of a road by widening or realignment. Works can be grouped into the works types of preventive, resurfacing, overlay and pavement reconstruction. Examples are resealing and overlay works, which are carried out in response to measured deterioration in road conditions. Periodic works are expected at regular, but relatively long, intervals. As such, they can be budgeted for on a regular basis and can be included in the recurrent budget. However, many countries consider these activities as discrete projects and fund them from the capital budget.
·
Special works. These are activities whose need cannot be estimated with any certainty in advance. The activities include emergency works to repair landslides and washouts that result in the road being cut or made impassable. Winter maintenance works of snow removal or salting are also included under this heading. A contingency allowance is normally included within the recurrent budget to fund these works, although separate special contingency funds may also be provided.

· Development. These are construction works that are identified as part of the national development planning activity. As such, they are funded from the capital budget. Examples are the construction of by-passes, or the paving of unpaved roads in villages.