ТОП 10:
Annex 28 L-39 Case and Falcon F900 used by Khalifa Haftar and the LNA
10. The Albatros L-39C (serial number 533623, tail number N393WA) was decommissioned and demilitarized in November 2000. Riccardo Mortara, the CEO of Sonnig S.A., a Geneva-based air company, bought the aircraft in 2009. The aircraft is registered in the United States, where it can operate with an experimental license. To obtain and keep a United States registration it must be owned by a company registered in the United States. This is made possible through trust agreements.
Table: Overview of the L-39C N393WA ownership history:
| | | |
| --- | --- | --- |
| Dates | | Ownership |
| 1 January 1985 | | Constructed as a L-39C, Owned by Eastern European air forces |
| 15 November 2000 | | Aircraft decommissioned and sold to private company, Deer Valley, AZ with tail number N393WA. |
| 25 July 2001 to 2004 | | Sold to private individual, Highland Falls, NY. |
| March 2005 | | Sold to private company Corporate Aircraft Partners Inc, Cleveland, OH. |
| January 2006 | | Sold to private company, Klamath Falls, OR. |
| 6 March 2006 | | Sold to private company, Wilmington, DE. |
| 27 July 2006 | | Sold to Cite Aviation LLC, Wilmington, DE. |
| 27 August 2010 | | Sold to Wells Fargo Bank Northwest Na Trustee under trust agreement, Salt Lake City, UT Operated with Sonnig S.A. painting |
| 28 November 2017 | | Sold to Cite Aviation LLC, Wilmington, DE Registration status unclear Operated by Sonnig International Private Jets, Fujairah. |
11. Cite Aviation LLC owned the L-39 from July 2006 until August 2010 when it was operated by Million-Air in the USA. The FAA's review of the aircraft records shows the last U.S. owner of record as Wells Fargo Bank Northwest NA trustee under a trust agreement dated as of August 3, 2010. Wells Fargo sold the aircraft to Cite Aviation LLC per a bill of sale filed with the FAA on November 28, 2017.
Source: Riccardo Mortara
Demilitarization certificate by the manufaturer of the L-39, Aero Vodochody.
Source: Confidential
12. The owner of the plane has shared with the Panel all the flights conducted since the L-39 is stationed in Benghazi including the names of the pilots on the plane. The flights are limited to 20 minutes each. According to the owner, the aim was to maintain his skills and those of his company's pilots.

Tabel of the L-39C flights in Benghazi.
Source: Riccardo Mortara
Annex 29 Armoured vehicles of LNA armed groups
13. The LNA attack on Derna brought to light the substantial military build-up in the east of Libya, though the units there are not part of the units under control of the GNA.
Picture 8 Armoured infantry vehicle al-Wahsh by King Abdullah II Design and Development Bureau (KADDB) of Jordan, equipped with a closed snakehead turret used by LNA's 106 Brigade in Derna in June 2018. The turret provides full protection to the fighter shooting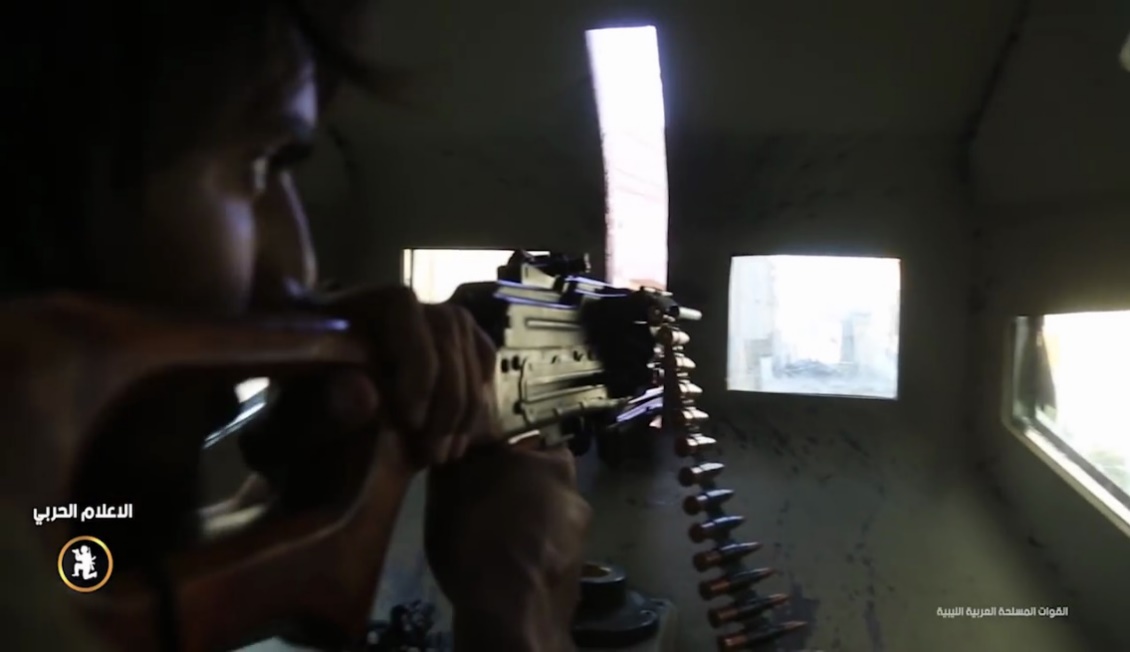 Source: LNA Media Office, 26 June 2018[71]