ТОП 10:
Annex 24 MV Andromeda timeline and route
1. Vessel information:
2. The analysis of the course taken by the MV Andromeda provides no substantial evidence that the vessel was heading to Libya. To appreciate the case, it is helpful to superimpose two sets of communication on the route taken by the vessel: First, the commercial dispute between the freight agents and the vessel manager; Second, the exchange between Andromeda managers and business associates with port agents. Copies of the emails are stored in the Panel's archives.
3. Different phases can be distinguished:
1. Loading of the cargo and sailing to Port Said anchorage to cross the Suez Canal.
2. Sailing to Larnaca and Limassol, Cyprus, and drifting.
3. Return to Port Said anchorage.
4. Sailing away from Port Said towards Crete due to bad weather condition.
5. Sailing in direction to bay of Kalamata.
6. Sailing towards Heraklion, Crete, to avoid bad weather and seizure.
Table: The timeline compiles two types of data: First it retraces the main itinerary taken by the MV Andromeda; Second, it places against it the communication between the parties involved in the shipment's logistics.
Date
Event data
Sender/ Source
Summary
17 Nov 2017
Position
Log book
Arrival Iskanderun
18 Nov 2017
Position
Log book
Loading of gas tanks; Departure
19 Nov 2017
Position
Log book
Mersin port; Loading and paperwork starts
23 Nov 2017
Position
Log book
Departure; sailing to Port Said
25 Nov 2017
Position
Log Book
Anchorage Port Said
26 Nov 2017
Email
Andromeda management
Andromeda Shipmanagement copies all parties concerned claiming that the Bill of Lading is fraudulent. Complains that Suez Canal fees not paid.
30 Nov 2017
Email
Andromeda management
Vessel manager claims that the ship's master was not in a position to authorize the freight handler, Reba, at Mersin port. Asks for new Bill of Lading.
Email
Charterer's lawyer
Suez Canal fees will be paid after Andromeda shows proof of insurance (P&I) for Red Sea.
2 Dec 2017
Position
Log book
MV sailing to Larnaca, Cyprus
5 Dec
Position
Log Book
MV drifting offshore Limassol, Cyprus
Email
Andromeda management
Exchange with Cyprus port authority
6 Dec 2017
Email
Charterer
Confirming payment of freight to account of Destel
8 Dec 2017
Email
Lawyer Hamburg
Stressing that they need a proof that Orica Nitro made a loss (material). This would be the only way to get an arrest warrant in Cyprus.
Position
Log book
Andromeda leaves Limassol anchorage sails to Port Said
Email
Andromeda management
Confirming receipt of USD 58,581.95; Claiming freight and costs still shortpaid.
9 Dec 2017
Email
Suez Canal
Awaiting payment of canal fees
14 Dec 2017
Email
Andromeda management
Requests warehousing for 10 day transit of all cargo at Misrata port
Position
Log book
Anchorage Port Said
15 Dec 2017
Position
Log book
Andromeda sails out of Port Said anchorage, heading west along Egyptian coast
16 Dec 2017
Email
Andromeda management
Request for warehousing granted by Misrata. Andromeda management asks for quote for 3 weeks of warehousing
19 Dec
Position
Log book
Vessel sails toward Island of Crete
20 Dec 2017
Position
Log book
Vessel adrift in Greek territorial waters in front of Kriti Kalsi, Crete
Email
Destel Group
Places a distress call to Astakos port, Greece, asking for warehousing of dangerous goods, until commercial dispute with charterer is resolved.
21 Dec 2017
Email
Charterer
Charterer replies to Vessel manager with all parties copied. Accuses manager of piracy, claims the manager has no intention to cross Suez Canal.
25 Dec 2017
Position
Log book
Vessel sails north-west of Crete towards the bay of Kalamata at the Peloponnese.
27 Dec 2017
Email
Lawyer Turkey
Report on meeting with Andromeda management and Destel in Athens. Agreed to pay. Sum to be determined; no agreement on best method of payment. Escrow account with Destel Group.
Email
Andromeda management
Vessel manager confirms that partial agreement was reach during meeting in Athens and that he has instructed the vessel to sail to Port Said to transit the Suez Canal. He expects the lawyer's office will settle all outstanding issues and the Suez Canal fees will be paid on time for the vessel to transit.
27 Dec 2017
Position
Log book
Vessel sails along Cretan shores in direction of Heraklion
28 Dec 2017
Position
Log book
Vessel anchors in front of Sitia, Crete
29 Dec 2017
Message
Andromeda management and Agent in port of Bar
Request to warehouse cargo at dangerous goods facility of port of Bar, Montenegro
2 Jan 2018
Email
Lawyer Turkey
Mentions that Andromeda management does not agree with the USD 80,000 agreed. Asks Destel to intervene
Email
Charterer
Claims that there is good AIS signal and that MV Andromeda shelters near Libyan coast. Stresses that he wants to find a solution and is ready to proceed with payment.
Email
Destel Group
States that the deal made in Athens with Andromeda management was valid until 29 December 2017. The deadline had passed and the sum agreed upon was USD 100,000.
3 Jan 2018
Email
Andromeda management
Stresses that a solution should be possible, but reiterate the threat to warehouse the dangerous goods highlighting that the vessel and the crew are in a difficult situation.
3 Jan 2018
Position
Log book
Vessel sails to Golf of Mirabello, Agios Nikolaos, Crete
6 Jan 2018
Position
Log book
Hellenic Coastguard approach MV Andromeda in Gulf of Mirabello, Crete
7 Jan 2018
Position
Log book
Hellenic Coastguard escort vessel to port of Heraklion, Crete
8 Jan 2018
Email
Destel Group
Business associate informs Andromeda manager that the Charterer through his lawyer have agreed to pay.
4. The AIS signal of the vessel was erratic and the unit was not functioning most of the time. The Panel reconstructed the route of MV Andromeda using a navigation map replicating the master's log book by an independent expert.
Below the certified navigation map: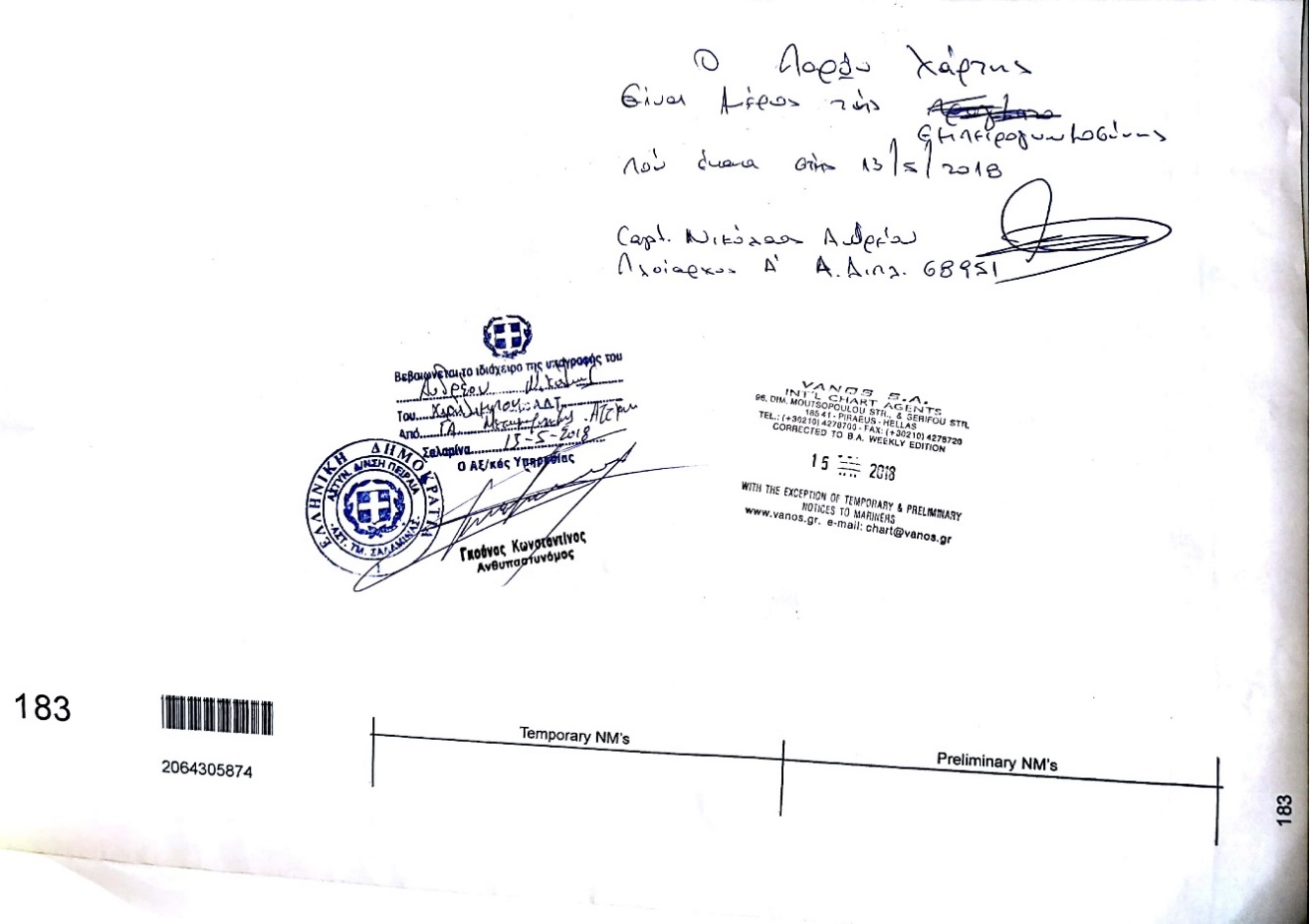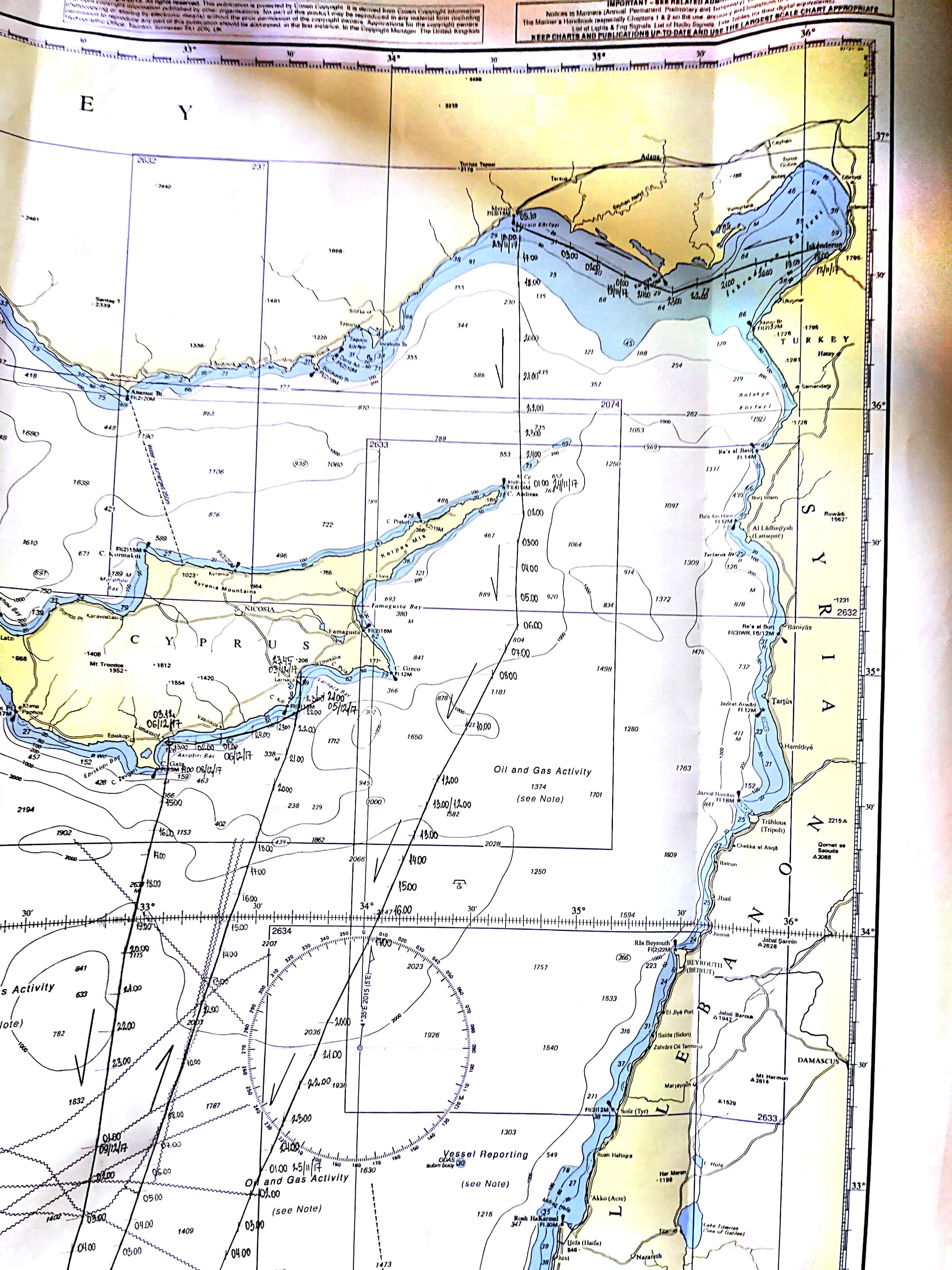 Source: Confidential
5. The manager of MV Andromeda previously experienced problems with the AIS signal and asked Marine Traffic to solve the issue in October 2017. Marine Traffic confirmed that the signal was producing wrong results, because in all likelihood another vessel received the same MMSI code from the Flag State, Tanzania:
| | |
| --- | --- |
| | George Triantafyllopoulos (MarineTraffic Support) Oct 31, 12:00 EET Hello again, I hope you are doing well. Thank you for being so patient while we were working on resolving the issue you described. As originally suspected, the issue you mentioned had to do with the fact that, as previously discussed, there is another vessel that shares the same MMSI, Call Sign and moves around the same area as your vessel, causing an issue for the data we receive from both vessels to be appropriately translated into our Database. From our side, the only viable option to avoid this mix up moving forward is to establish a different MMSI for your vessel in our system. This is the only way to make sure that the signals we receive from your vessel are correctly translated into our database, and subsequently in our Live Map. As you might have already noticed, since doing that, you have been receiving a normal amount of positions the last few days. Once again thank you for being patient and I do apologise for any inconvenience caused so far. If there is anything else I can help you with, please let me know. Best regards, George Triantafyllopoulos Add value to your business: Solutions | Book your demo | Business Directory MarineTraffic |
| | |
| --- | --- |
| | George Triantafyllopoulos (MarineTraffic Support) Oct 17, 15:52 EEST Hello again, Thank you for your immediate response. I have now escalated this ticket and passed it over to the appropriate department. As soon as I have more information, I will let you know. In the meantime, if there is anything else I can do for you, please don't hesitate to contact me again. All the Best, George Triantafyllopoulos MarineTraffic |
| | |
| --- | --- |
| | Coasters Ship Oct 17, 15:18 EEST COASTERS MARINE CORP Shipmanagers - Brokers - Operators 2nd Floor, 249 Demokratias Ave., 136 71 Athens, Greece Ph/Fx +30 210 2389229 - Ph +30 213 0304356 - Ph +30 213 0098380 Mob +30 6936 758304 - Email coasters.ship@gmail.com Skype Coastersmaritime Dear Sirs, Further to your last request, please be informed that after Zwarah port, Vessel has reached Alexandria port, Abu qir port (Egypt), while now is reaching Sidon port (Lebanon) Kindly |
| | |
| --- | --- |
| | George Triantafyllopoulos (MarineTraffic Support) Oct 17, 15:12 EEST Hello again, I hope you are doing well. I can see that indeed the vessel you are referring to has not displayed a position for the past few weeks. I truly apologize for this inconvenience. There is a possibility that the use of the same MMSI that we noticed last time, is causing some confusion. I will have to contact the data Team about this issue. Before escalating the issue for a further investigation, I will kindly ask you to provide me with some more information about the recent locations that the vessel has travelled to, so I can give them more information. Thank you in advance. I'm looking forward to hearing from you. Kind Regards, George Triantafyllopoulos MarineTraffic |
| | |
| --- | --- |
| | Coasters Ship Oct 17, 11:46 EEST This is a follow-up to your previous request #71992 "Mv/Andromeda Call Sign" COASTERS MARINE CORP Shipmanagers - Brokers - Operators 2nd Floor, 249 Demokratias Ave., 136 71 Athens, Greece Ph/Fx +30 210 2389229 - Ph +30 213 0304356 - Ph +30 213 0098380 Mob +30 6936 758304 - Email coasters.ship@gmail.com Skype Coastersmaritime Dear Sirs, There seems to be a problem between your support services and Vessel Andromeda. Although AIS works normally, on your Site Vessel seems to be still at Zwarah, Libya, where it was about a month ago. When we try to track the Vessel through another Site, Vessel is correctly reachable. Can you pls find out and try to solve the proble with 'Marine Traffic'? Thank you in advance Kindly Operation Depart |
Source: Confidential
6. The Panel requested from the Flag State, Tanzania, the Long-range identification and tracking system (LRIT), but did not receive a reply. At the same time, the Panel noted that Marine Traffic continued to show AIS information on its map, though the MV Andromeda remained at the port of Heraklion. For example, Marine Traffic showed MV Andromeda sailing from Haifa, Israel, to Beirut, Lebanon, between 2 to 10 July 2018: