Test 7. Complete the sentences with а necessary form of the words in brackets.
1. I could hardly keep awake – it was the (boring) film I've ever seen.
2. The (high) you climb, the (far) you fall.
3. Bill is (rich) than John.
4. Prices have gone up. Things aren't as (cheap) as they used to be.
5. Tokyo is (big) than New York.
6. Tokyo is Japan's (large) city.
7. You certainly look much (happy) than you did yesterday.
8. The day grew (hot).
9. This is his (good) novel. The other novels are much (bad) than this one.
10. Jane is the (young) of the three sisters.
11. I get on well with my (old) sister.
12. This is the (funny) bit of the film.
13. He is obviously (interested) in sport than I am.
14. It was the (expensive) hotel we had ever stayed in.
15. (Good) late than never.
16. Where is the (near) post office?
17. He was the (bad) pupil in the class.
18. Cats don't usually live as (long) as dogs.
19. Children nowadays seem to be much (noisy) than they used to be.
20. Henry was the (big) of them.
Test 8. Choose the correct word.
1. I'm interesting/interested in collecting stamps.
2. Everyone is depressed/depressing by the awful weather.
3. I think that airports are exciting/excited places.
4. I'm tired/tiring. I think I'll go to bed.
5. The journey was exhausted/exhausting!
6. It's not surprising/surprised that she's busy. She's got six children.
7. The teacher was annoying/annoyed because I had forgotten to do my homework.
8. He loved the museum – he thought it was fascinating/ fascinated.
9. We went to the cinema but I was very boring/bored because I had seen the film before. 10. I like this monkey. It is very amused/amusing.
Test 9. Put an adjective from the box into each gap.
1. What programme are you watching? Is it _______?
2. 'I'm going on a safari in Africa!' 'Really? How _______!'
3. What time did you get home last night? I didn't know where you were. I was very _______ about you.
4. The children are _______ and they don't know what to do.
5. It was quite _______ that he passed the exam.
6. I was _______ with the film. I expected it to be much better.
7. I don't want to read this book. It is _______.
8. The cartoon was very _______. I laughed a lot.
9. I don't want to go to the match. I'm not _______ in football.
10. We were very _______ when we heard the news.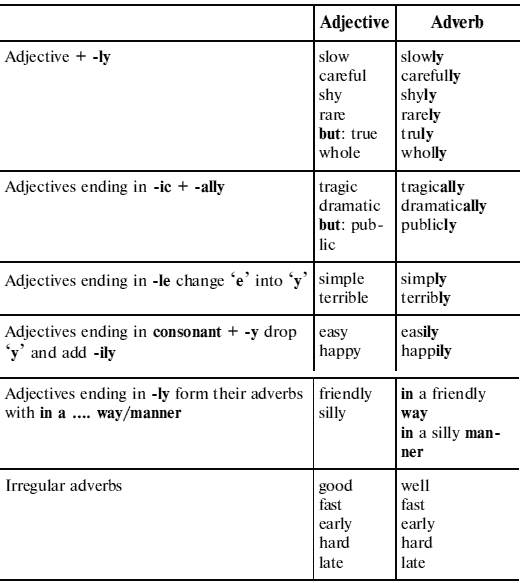 Test 10. Write the corresponding adverb.

1. quick – 6. careful – 11. hard —

2. bad – 7. nice – 12. slow —

3. late – 8. correct – 13. happy —

4. angry – 9. fast – 14. early —

5. good – 10. easy – 15. beautiful —

Test 11. Adjective or adverb? Choose the correct word.

1. I'm going to tell you something very important, so please listen careful/carefully.

2. Why are you angry/angrily? I haven't done anything wrong.

3. Our teacher always explains the rules clear/clearly.

4. He was driving dangerous/dangerously.

5. Come on, Dave! Why are you so slow/slowly?

6. Jane is studying hard/hardly for her exam.

7. 'Where is Tom?' 'He was here but he left sudden/suddenly.'

8. Her ideas are very useful/usefully.

9. He can understand people easy/easily.

10. Olga speaks English perfect/perfectly.

11. These jeans are very expensive/expensively.

12. Yesterday I came home very late/lately.

13. He always does his homework good/well.

14. We visit our relatives regular/regularly.

15. She always dresses nice/nicely.