Pure Capitalism and the Market System: The Market and the 5 Es
Pure Capitalism and the Market System: The Market and the 5 Es
I. Economic Systems (pp. 33-34)
A particular set of institutional arrangements and a coordinating mechanism for solving the economizing problem;
A method of organizing an economy
B. Economic Systems:
Two main types:

Command Economy or socialism
Market Economy or Capitalism
Economic systems are ways that countries answer the 5 fundamental questions (p. 34-36):
1. What will be produced?
2. How will goods and services be produced?
3. Who will get the output?
4. How will the system accommodate change?
5. How will the system promote progress?
There are no PURE command economies
There are no PURE market economies
Instead there is a continuum of different characteristics
All over the world countries are changing their economies from command economies to market economies
Economic Systems: Characteristics
Types of Economic Systems

Pure Capitalism

also called:

market economy
competition
free enterprise
laissez-faire capitalism

Command Economy

also called

socialism
state-run economy
centrally planned economy
communism

Examples:

North Korea
Cuba,
Turkmenistan
Myanmar
Belarus
Laos
Libya
Iran
Iraq (until 2003)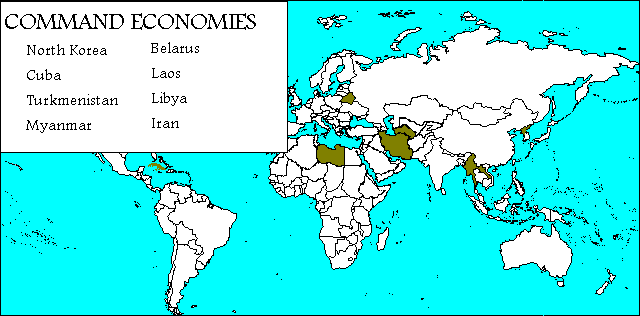 o All economic systems are Mixed Systems
| | | |
| --- | --- | --- |
| TYPE OF SYSTEM | WHO OWNS? | WHO DECIDES? |
| Pure Capitalism: | private ownership | the market system |
| Command Economy: | government ownership | centralized (or gov't) decision-making |
| Mixed Economy | some private and some government | some private and some government |
Paul Solman Video: Capitalism vs. Socialism - The Cuban Quandary

note the important role of INCENTIVES
II. Capitalist Ideology
A. Basic Characteristics:
| | |
| --- | --- |
| CLASS: | TEXTBOOK: |
| 1. private property 2. freedom of enterprise and choice 3. role of self interest 4. competition 5. markets and prices 6. limited role for government | 1. private property 2. freedom of enterprise and choice 3. role of self interest 4. competition 5. markets and prices 6. technology and capital goods 7. specialization 8. use of money active, but limited government |
B. private property

· provides an incentive for economic growth

· Paul Solman Video: Private Property (and Pilgrims too)

OPTIONAL: http://www.npr.org/templates/story/story.php?storyId=1565953 China Considers Private Property Rightson National Public Radio All Things Considered, December 22, 2003 · In Beijing, legislators propose an amendment to the Chinese constitution guaranteeing private property rights. The move has great symbolic importance in a country that is nominally communist, but whose people have been buying property and trading stocks for years as the result of economic reforms by Deng Xiaoping. NPR's Rob Gifford reports.

C. markets and prices

· prices GUIDE resources
[pickups driving to Florida with plywood]

· prices RATION goods and services
[high prices after a hurricane encourage people to conserve]

· markets and prices affect allocative efficiency

Quick Quiz: TO DECIDE HOW TO USE ITS LIMITED RESOURCES TO SATISFY HUMAN WANTS PURE CAPITALISM RELIES ON: A. CENTRAL PLANNING B. FREE TRADE C. A PRICE SYSTEM D. FULL EMPLOYMENT

D. role of self interest

· Introduction: would you rather have government or private business . . . . ? WHY?

o gas station near a desert

· Self interest is a powerful force and IF THERE IS COMPETITION IN AN ECONOMY it will result in improving the social good as if there is some "invisible hand" guiding their decisions.

o "greed" and productive efficiency

o "greed" and allocative efficiency

o "greed" and economic growth

Large number of buyers means that no single consumer or employer can control the price or market demand.

Depending upon market conditions, producers can enter or leave industry easily.

· competition is the "invisible hand"

o plywood after a hurricane

o monopolies and inefficiency

III. The Market System at Work

A. The Market and the 5Es

Economic Growth

a. Define
b. Economic Growth and the characteristics of Capitalism

(1) private property
(2) self interest
(3) freedom of enterprise and choice

Equity

· Capitalism does not have a mechanism to assure EQUITY. This may be a role of government (ch. 5)

Full Employment

· Economists disagree over whether capitalism will guarantee FULL EMPLOYMENT.

· studied in macroeconomics

B. Summary:

A. Introduction

In the absence of such signals, government or some similar institution would have to decide where resources are allocated, but without knowing what people in society want. the result would most likely be allocatively inefficient.

Pure Capitalism and the Market System: The Market and the 5 Es