VHDL code for "addersubtractor" unit
VHDL code for "addersubtractor" unit
LIBRARY ieee ;
USE ieee.std_logic_1164.all ;
-- Top-level entity
ENTITY addersubtractor IS
GENERIC ( n : INTEGER := 16 ) ;
PORT ( A, B : IN STD_LOGIC_VECTOR(n-1 DOWNTO 0) ;
Clock, Reset, Sel, AddSub : IN STD_LOGIC ;
Z : BUFFER STD_LOGIC_VECTOR(n-1 DOWNTO 0) ;
Overflow : OUT STD_LOGIC ) ;
END addersubtractor ;
ARCHITECTURE Behavior OF addersubtractor IS
SIGNAL G, H, M, Areg, Breg, Zreg, AddSubR_n : STD_LOGIC_VECTOR(n-1 DOWNTO 0) ;
SIGNAL SelR, AddSubR, carryout, over_flow : STD_LOGIC ;
COMPONENT mux2to1
GENERIC ( k : INTEGER := 8 ) ;
PORT ( V, W : IN STD_LOGIC_VECTOR(k-1 DOWNTO 0) ;
Sel : IN STD_LOGIC ;
F : OUT STD_LOGIC_VECTOR(k-1 DOWNTO 0) ) ;
END COMPONENT ;
COMPONENT adderk
GENERIC ( k : INTEGER := 8 ) ;
PORT ( carryin : IN STD_LOGIC ;
X, Y : IN STD_LOGIC_VECTOR(k-1 DOWNTO 0) ;
S : OUT STD_LOGIC_VECTOR(k-1 DOWNTO 0) ;
carryout : OUT STD_LOGIC ) ;
END COMPONENT ;
BEGIN
PROCESS ( Reset, Clock )
BEGIN
IF Reset = '1' THEN
Areg <= (OTHERS => '0'); Breg <= (OTHERS => '0');
Zreg <= (OTHERS => '0'); SelR <= '0'; AddSubR <='0'; Overflow <= '0';
ELSIF Clock'EVENT AND Clock = '1' THEN
Areg <= A; Breg <= B; Zreg <= M;
SelR <= Sel; AddSubR <= AddSub; Overflow <= over_flow;
END IF ;
END PROCESS ;
nbit_adder: adderk
GENERIC MAP ( k => n )
PORT MAP ( AddSubR, G, H, M, carryout ) ;
multiplexer: mux2to1
GENERIC MAP ( k => n )
PORT MAP ( Areg, Z, SelR, G ) ;
AddSubR_n <= (OTHERS => AddSubR) ;
H <= Breg XOR AddSubR_n ; Z <= Zreg ;
over_flow <= carryout XOR G(n-1) XOR H(n-1) XOR M(n-1) ;
END Behavior;
-- k-bit 2-to-1 multiplexer
LIBRARY ieee ;
USE ieee.std_logic_1164.all ;
ENTITY mux2to1 IS
GENERIC ( k : INTEGER := 8 ) ;
PORT ( V, W : IN STD_LOGIC_VECTOR(k-1 DOWNTO 0) ;
Sel : IN STD_LOGIC ;
F : OUT STD_LOGIC_VECTOR(k-1 DOWNTO 0) ) ;
END mux2to1 ;
ARCHITECTURE Behavior OF mux2to1 IS
BEGIN
PROCESS ( V, W, Sel )
BEGIN
IF Sel = '0' THEN
F <= V ;
ELSE
F <= W ;
END IF ;
END PROCESS ;
END Behavior ;
-- k-bit adder
LIBRARY ieee ;
USE ieee.std_logic_1164.all ;
USE ieee.std_logic_signed.all ;
ENTITY adderk IS
GENERIC ( k : INTEGER := 8 ) ;
PORT ( carryin : IN STD_LOGIC ;
X, Y : IN STD_LOGIC_VECTOR(k-1 DOWNTO 0) ;
S : OUT STD_LOGIC_VECTOR(k-1 DOWNTO 0) ;
carryout: OUT STD_LOGIC ) ;
END adderk ;
ARCHITECTURE Behavior OF adderk IS
SIGNAL Sum : STD_LOGIC_VECTOR(k DOWNTO 0) ;
BEGIN
Sum <= ( '0' & X) + ( '0' & Y) + carryin ;
S <= Sum(k-1 DOWNTO 0) ;
carryout <= Sum(k) ;
END Behavior ;
File-> New (ввод текста программы на языке VHDL)
è OK
Insert VHDL code (вставить указанную программу)
File-> Save (сохранение введенного текста программы)
Tools -> Options -> Text Editor (выбрать программу редактирования текста)
->OK
Assignments -> Settings -> Files (выбор файлов задания и установок),
è OK
Processing -> Start Compilation (начать процесс компиляции)
Compilation report (отчет процесса компиляции)
Timing analyzer summary (краткое резюме программы анализа временных диаграмм)
Отчет процесса компиляции – установки тактового генератора

Выбор краткого отчета по Fmax
Tools > Chip Planner (Floor Plan and Chip Editor) - выбор программы планирования сединений для выбранного проекта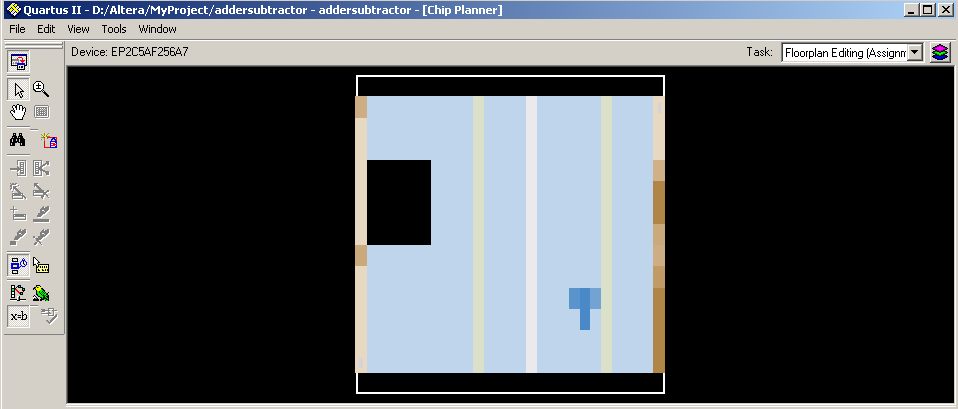 View of the floor-plan.
è
The chip planner tool has several icons that can be used to view aspects such as fan-in and fan-out of nodes, connecting paths between nodes, and so on. For more information on using this tool, refer to Help by selecting Help > Contents > Achieving Timing Closure > Working With Assignments in the Chip Planner from the main Quartus ® II display.
A portion of the expanded view (расширенное поле обзора соединений элементов).
Errors (ввод и устранение ошибок)
The user can obtain more information about a specific error or warning message by selecting the
message and pressing the F1 function key.
1. To see the effect of an error, open the file "addersubtractor.vhd".
ARCHITECTURE Behavior OF mux2to1 IS
BEGIN
PROCESS ( V, W, Sel )
BEGIN
IF Sel = '0' THEN
F <= V ;
ELSE
F <= W ;
END IF ;
END PROCESS ;
END Behavior ;
Replace F with X in this block. Compile the erroneous design file.
Quartus® II software will display a pop-up box indicating that the compilation was not successful. Acknowledge it by clicking OK.
The compilation report summary, given in Figure , now confirms the failed result.
Correct the error and recompile the design.
Предлагается заменить F на X и отправить на компиляцию – ППП Quartus II должен выдать отчет об ошибке.
Устраните ошибку и снова запустите на компиляцию.
Using the RTL Viewer
Tools > Netlist Viewers > RTL Viewer (программа просмотра Проекта на уровне резисторно-транзисторной логике)
An enlarged view of the circuit (расширенный просмотр схемы Проекта).
Details of sub-circuits can be seen by clicking on the box that represents a sub-circuit.
Select the Selection Tool
from the left hand toolbar (above the Zoom Tool), and double-click on the mux2to1 box to obtain the image in Figure 30.
The multiplexer sub-circuit
Для расширенного просмотра выбранного элемента схемы выбрать специальную пиктограмму -
и дважды щелкнуть по изображению выбранного элемента)
Tools > TimeQuest Timing Analyzer (выбор программы для анализа временных диаграмм)
è Netlist -> Create Timing Netlist (выбор таблицы соединений)
Выбрать поле Clock
VHDL code for "addersubtractor" unit
LIBRARY ieee ;
USE ieee.std_logic_1164.all ;
-- Top-level entity
ENTITY addersubtractor IS
GENERIC ( n : INTEGER := 16 ) ;
PORT ( A, B : IN STD_LOGIC_VECTOR(n-1 DOWNTO 0) ;
Clock, Reset, Sel, AddSub : IN STD_LOGIC ;
Z : BUFFER STD_LOGIC_VECTOR(n-1 DOWNTO 0) ;
Overflow : OUT STD_LOGIC ) ;
END addersubtractor ;
ARCHITECTURE Behavior OF addersubtractor IS
SIGNAL G, H, M, Areg, Breg, Zreg, AddSubR_n : STD_LOGIC_VECTOR(n-1 DOWNTO 0) ;
SIGNAL SelR, AddSubR, carryout, over_flow : STD_LOGIC ;
COMPONENT mux2to1
GENERIC ( k : INTEGER := 8 ) ;
PORT ( V, W : IN STD_LOGIC_VECTOR(k-1 DOWNTO 0) ;
Sel : IN STD_LOGIC ;
F : OUT STD_LOGIC_VECTOR(k-1 DOWNTO 0) ) ;
END COMPONENT ;
COMPONENT adderk
GENERIC ( k : INTEGER := 8 ) ;
PORT ( carryin : IN STD_LOGIC ;
X, Y : IN STD_LOGIC_VECTOR(k-1 DOWNTO 0) ;
S : OUT STD_LOGIC_VECTOR(k-1 DOWNTO 0) ;
carryout : OUT STD_LOGIC ) ;
END COMPONENT ;
BEGIN
PROCESS ( Reset, Clock )
BEGIN
IF Reset = '1' THEN
Areg <= (OTHERS => '0'); Breg <= (OTHERS => '0');
Zreg <= (OTHERS => '0'); SelR <= '0'; AddSubR <='0'; Overflow <= '0';
ELSIF Clock'EVENT AND Clock = '1' THEN
Areg <= A; Breg <= B; Zreg <= M;
SelR <= Sel; AddSubR <= AddSub; Overflow <= over_flow;
END IF ;
END PROCESS ;
nbit_adder: adderk
GENERIC MAP ( k => n )
PORT MAP ( AddSubR, G, H, M, carryout ) ;
multiplexer: mux2to1
GENERIC MAP ( k => n )
PORT MAP ( Areg, Z, SelR, G ) ;
AddSubR_n <= (OTHERS => AddSubR) ;
H <= Breg XOR AddSubR_n ; Z <= Zreg ;
over_flow <= carryout XOR G(n-1) XOR H(n-1) XOR M(n-1) ;
END Behavior;
-- k-bit 2-to-1 multiplexer
LIBRARY ieee ;
USE ieee.std_logic_1164.all ;
ENTITY mux2to1 IS
GENERIC ( k : INTEGER := 8 ) ;
PORT ( V, W : IN STD_LOGIC_VECTOR(k-1 DOWNTO 0) ;
Sel : IN STD_LOGIC ;
F : OUT STD_LOGIC_VECTOR(k-1 DOWNTO 0) ) ;
END mux2to1 ;
ARCHITECTURE Behavior OF mux2to1 IS
BEGIN
PROCESS ( V, W, Sel )
BEGIN
IF Sel = '0' THEN
F <= V ;
ELSE
F <= W ;
END IF ;
END PROCESS ;
END Behavior ;
-- k-bit adder
LIBRARY ieee ;
USE ieee.std_logic_1164.all ;
USE ieee.std_logic_signed.all ;
ENTITY adderk IS
GENERIC ( k : INTEGER := 8 ) ;
PORT ( carryin : IN STD_LOGIC ;
X, Y : IN STD_LOGIC_VECTOR(k-1 DOWNTO 0) ;
S : OUT STD_LOGIC_VECTOR(k-1 DOWNTO 0) ;
carryout: OUT STD_LOGIC ) ;
END adderk ;
ARCHITECTURE Behavior OF adderk IS
SIGNAL Sum : STD_LOGIC_VECTOR(k DOWNTO 0) ;
BEGIN
Sum <= ( '0' & X) + ( '0' & Y) + carryin ;
S <= Sum(k-1 DOWNTO 0) ;
carryout <= Sum(k) ;
END Behavior ;
File-> New (ввод текста программы на языке VHDL)
è OK
Insert VHDL code (вставить указанную программу)
File-> Save (сохранение введенного текста программы)
Tools -> Options -> Text Editor (выбрать программу редактирования текста)
->OK
Assignments -> Settings -> Files (выбор файлов задания и установок),
è OK
Processing -> Start Compilation (начать процесс компиляции)
Compilation report (отчет процесса компиляции)
Timing analyzer summary (краткое резюме программы анализа временных диаграмм)